NEW DELHI
: Chetna Singh and her partner left their jobs two years ago to start a playschool in north Delhi after realizing that their neighborhood offered no Montessori education. They had hoped to expand the school this year, but are instead finding it hard to sustain their project. Playschools like theirs have been hit hard by the Covid-19 pandemic.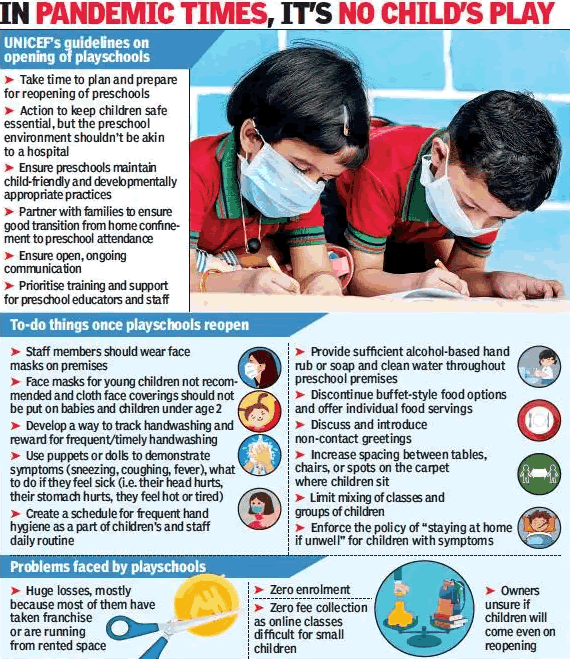 Budget private school which provide education at very affordable costs, are struggling, but playschools are worse off because offering online classes for tots is neither practical nor feasible. This means that since March they have collected almost nothing as fees and have had no new admissions. Playschool operators don't see things changing before the Covid vaccine becomes available.
Blow to pre-nursery schools as Covid plays out
Singh, 40, whose playschool in Model Town is called Sensory Steps, sighed, "We are right at the bottom in the hierarchy of schools. It is unlikely we will be able to reopen this year." Sensory Steps caters to 24 children aged 18 months to two years.
Singh is lucky she hasn't had to consider closing her school because the building belongs to her. Vibha Kumar who has run Little Creative Minds in Greater Kailash since 1992 is similarly relieved not to be a rent payer. None of her around 70 students remain on the rolls, though her employees have stood by her. "The vaccine is the only solution to our revival," said Kumar with certainty. "It is premature to assess the damage caused by the pandemic to playschools. The parents must be exasperated at not being able to provide learning to their children, but they cannot take chances."
It is the age of the students that makes parents risk-averse. Most are 18 months old at the time they enter playschool. Yet because of the age factor, admission also takes place round the year. In 2018, Delhi High Court set some ground rules for playschools, but they are largely unregulated. An earlier study had determined a growth of around 19% over 2019-24 for preschools, so they were seen as lucrative sources of income.
But Covid has played spoilsport. Kumar observed that those operating as franchisees of playschool brands were bearing the brunt of the economic repercussions of the pandemic. "They have to pay a high royalty, and perhaps haven't got good returns on their investment in four years, especially this year," she said. Franchisees of schools like Kidzee, Mother's Pride and Shemrock pay Rs 5 – 12 lakh as licence fee.
The owner of a Mother's Pride franchise in Rohini concurred. "We are almost on the verge of closing down with the rent simply unpayable now," said the owner, who has run the institution for three years. "Parents are not interested in online classes, which means there is no money. A few more months of this and our business will be over, though children will lose out on their early learning years."
This last fact was noted by UNICEF in its report in May. The "Guidance for re-opening of pre-schools and kindergartens postCovid19" reports says, "…the decision to reopen kindergartens might come before decisions to reopen primary or secondary schools. Given the role preschools serve in supporting not only children but also the ability of parents to return back to work, the loosening of lockdown also means young children will need care urgently as their parents return to work."