Question: Why does a freely suspended magnet point in the north-south direction?
Answer: It is believed that earth behaves like a big bar magnet with it south pole towards geographical north-pole. That's why a freely suspended magnet points in north-south directions.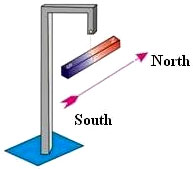 Question: Briefly explain the properties of magnet.
Answer: The properties of magnet are:
Magnets attract iron and cobalt.
Every magnet has 2 poles-north, south which cannot be isolated.
Strength of a magnet is maximum at poles.
A freely suspended magnet alligns itself in north-south directions.
Unlike poles of a magnet attract each other and like poles repel each other.
Question: With a help of a diagram explain how to store bar magnets.
Answer: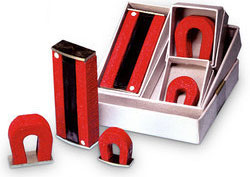 Iron keepers, make the continuoty of magnetic lines of force, magnet does not lose its magnetic power.
Question: How will you experimentally show that there are two regions in a magnet where its magnetic strength is concentrated?
Answer: If we drop a magnet in a bowl full of iron fillings and we take the magnet out we notice that most of the iron fillings are attached at the poles and less at the center. This tolls us that the magnetic strength is concentrated at poles.