9th CBSE Mathematics Pre-Mid Examination Question Paper (2019-20)
School Name: Himalayan Public School
, Sector 13, Rohini, 
Delhi
 110085 
India
Time:
3 hr
M.M.
80 marks
Date:

24/06/2019
Class:
IX
Subject: Mathematics
General Introductions:
All questions are compulsory.
This question paper consists of 40 questions divided into five sections – A, B, C, D and 3-D DEXTER.
Section-A contains 16 questions of 1 mark each.
Section-B contains 3 questions of 2 mark each.
Section-C contains 8 questions of 3 mark each.
Section-D contains 6 questions of 4 mark each.
3-D DEXTER contains 4 questions of 1 mark each and 3 questions of 2 marks each.
Use of Calculators is not permitted.
Section A: 9th Mathematics Pre-Mid Exam
Question: 1. Give an example of two irrational number whose product is rational.
Question: 2.

Question: 3.

Question: 4. Find the value of (3√2 – 5) (3√2 + 5)
Question: 5. What is the degree of the polynomial p(x) = 3?
Question: 6. Find the coefficient of x in (5 – x )².
Question: 7. Find the zero of the polynomial p(x) = 2x + 9.
Question: 8. If p(x) = x² – 2√2x + 1, find p(2√2)
Question: 9. Find the reminder when x¹¹ + 101 is divided by x + 1.
Question: 10. Find the value of 103² using a suitable Identity.
Question: 11. Where does the point (-2, 7) lie in the coordinate plane?
Question: 12. If two complementary angles are in the ratio 4:5, then find the angles.
Question: 13. The angles of a triangle are (3x + 40°), (4x + 10°) and (3x + 50°). Find the value of x.
Question: 14. What are the coordinates of a point whose abscissa is -2 and lies on x – axis?
Question: 15. Find the measure of an angle whose supplement is equal to the angle itself.
Question: 16. An exterior angle of a triangle is 80° and the two interior opposite angle are equal. Find the measure of each interior opposite angle.
Section B: 9th Mathematics Pre-Mid Exam
Question: 17.

Question: 18. If the area of an equilateral triangle is 81√3 cm², find its perimeter.
Question: 19. In figure, lines PQ and RS intersect at a point T, such that ∠PRT = 40°, ∠RPT = 95° and
∠TSQ = 75°, find ∠SQT.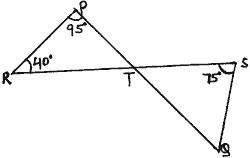 Section C: 9th Mathematics Pre-Mid Exam
Question: 20.

Question: 21.

Question: 22. If x – 2y = 6, find the value of x³ – 8y³ – 36xy – 216.
Question: 23. Factorise: 8x³ – 27y³ – 36x²y + 54xy²
Question: 24. Find:
mirror image of P(-1, 4) in x – axis.
perpendicular distance of Q(-2, -4) from x axis.
abscissa of the point R(3, 0).
Question: 25. In figure, AB || EF and CD || EF. Also EA ⊥ AB. If ∠BEF = 40°, then find x, y and z.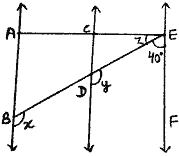 Question: 26. In figure, POQ is a line. Ray OR is perpendicular to line PQ. OS is another ray lying between OP and OR.
Prove that ∠ROS = ½ (∠QOS – ∠POS).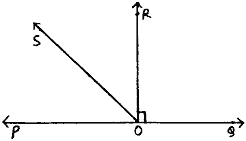 Question: 27. Side of a  triangle are in the ratio 13:14:15 and its perimeter is 84 cm. Find its area.
Section D
Question: 28.

Question: 29. If p(x) = ax³ – 3x² + 4 and g(x) = 2x³ – 5x + a, when divided by x – 2 leaves reminder p abd q respectively and if p – 2q = 4, find the value of a.
Question: 30. Factorise p(x) = x³ + 13x² + 32x + 20
Question: 31. Three vertex of a  square PQRS and P(1,0), Q(5,0) and R(5,4). Then
(a) plot the point P, Q and R on graph.
(b) find the coordinates of the missing vertex S.
(c) find the area and perimeter of PQRS.
Question: 32. In ΔABC, the side AB and AC of triangle are produced to points E and D respectively. If bisectrs BO and CO of ∠CBE and ∠BCD respectively meet at point O, then prove that ∠BOC = 90° – ½ ∠A.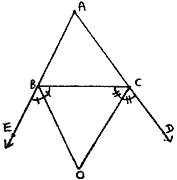 Question: 33. ABC is an equilateral triangle with side 'a'.
Find the area of ΔABC using Heron's formula.
If its perimeter is 180 cm, what will be the area of the triangle.
3-D DEXTER
Question: 34. Who invented 3D printing? [1]
Question: 35. What is the full form of ABS? [1]
Question: 36. At what temperature PLA melts? [1]
Question: 37. How many motors does 3D printer has? [1]
Question: 38. Explain the process of printer a cube. [2]
Question: 39. What is design thinking? What are 5 stages of the design thinking? [2]
Question: 40. Write shortcuts of the following: [2]
Rectangle tool
Offset tool
Rotate tool
Push Pull